KCJ – The #1 Professional

Pergola Contractors & Construction in Dubai
Pergolas add a great look and feel to your house. KCJ Landscaping is a pergola construction company in Dubai who manufactures and installs unique and high-quality pergola elements to your outdoor space. KCJ is also a leading pergola suppliers & Pergola contractors in Dubai and across the UAE.
Outdoor Pergolas are constructed in villas, individual houses and also at commercial spaces. It adds a feel of inclusiveness to your guests. KCJ Landscaping is one of the pergolas manufactures and suppliers in Dubai who are in the field for more than 8 years. These pergolas when constructed in your landscape will blend in with space and act as an additional living area for friends and family.
For Best Pergola Design and Construction in Dubai
Types of Pergola We Provide
Wooden Pergola
Aluminium Pergola
Metal Glass Pergola
Commercial Pergola
Cantilever Pergola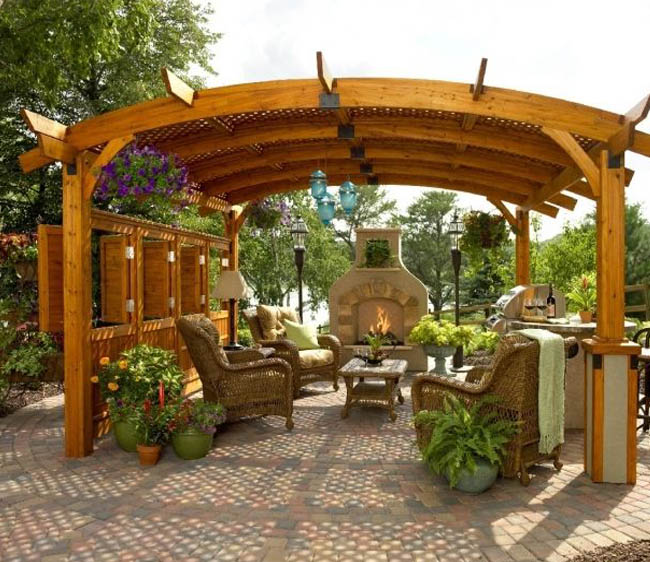 Customized Design
KCJ Landscaping takes pergola contracts and design and constructs the best and unique pergolas in Dubai. Our team has expertise in the construction of pergolas that adds more beauty to your garden. We design and build pergolas. We design and construct pergolas that's way beyond your imagination.
Why choose KCJ Landscaping for your Pergola Construction Services in Dubai & UAE?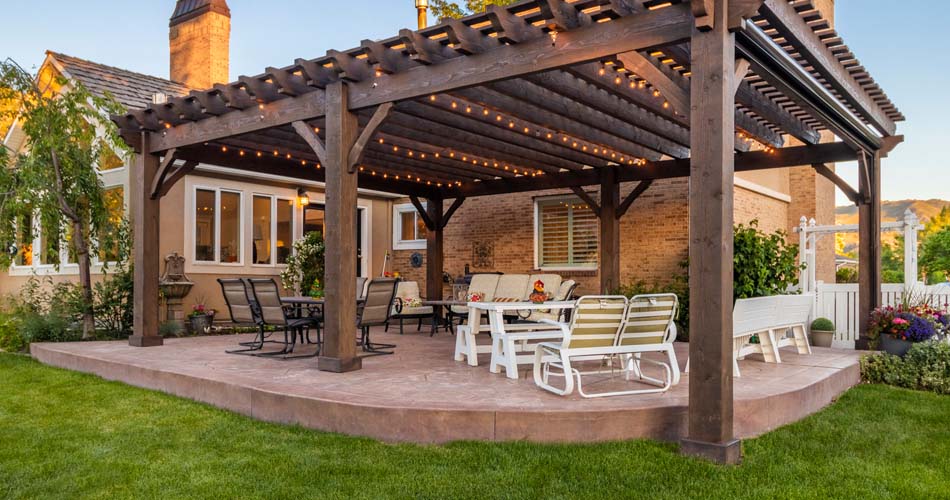 ◘  KCJ Landscaping always puts its customer's interest before everything

◘  KCJ Landscaping does Pergola designing and construction at a very nominal rate that is almost equal to the cost price.

◘  We have years of industry experience where we have constructed a number of unique pergolas and landscapes with the utmost satisfaction from our clients

◘  The main reason that we have grown as one of the best pergolas construction company in Dubai is that our work speaks for itself.

◘  Needless to repeat but we guarantee on our pricing, quality and your satisfaction
Pergola Design & Installation Services in Dubai
We KCJ the leading pergola contractors in Dubai & the UAE offer you the world class pergola design and installation for your custom needs. Your outdoor landscape is what attracts most of your visitors than your interiors. You may have built a great elevation to your house or office, but there should be a garden landscape to compliment the front view of your already beautiful elevation.
Usually, the outdoor landscapes are designed and constructed in most of the villas in Dubai. We at KCJ landscaping as company located in Dubai we are gifted with such experts in the industry to work for our esteemed customers. We always put our customer delight as our first priority.
Our professionals who are expert in the field design your garden in such a way that it always exceeds your expectation and stand out of the crowd as a unique landscape in the neighborhood. We are very much committed to the quality that we provide to our customers.
Why Should You opt for Pergola Construction in Dubai?
Your garden landscape can be divided into three or more parts based on your requirements such as a private, public and a living area. The public area must be more welcoming to visitors. Adding architectural elements like pergolas to the front yard and pathways to your entrance makes them look more elegant.
Pergolas are not just elegant to look at, they create a great shade and an amazing seating area for your friends and family. The pergola construction in your Dubai villa will stand as one with nature and it does enhance the natural beauty.
Leading Suppliers & 
Pergola Contractors 
in Dubai – KCJ
KCJ Landscaping has been one of the professional pergola designer, manufacturer and pergola suppliers in Dubai and UAE. We put our 100% in building the best for our customers. We take pride in saying that at KCJ landscaping we do not overprice things nor do we compromise a bit in our quality. Because our customers are our brand ambassadors who take us to another level through their satisfaction.
Planning to add a pergola to your villa landscape in Dubai? Contact KCJ Landscaping's expert architects and let them help you design and construct a unique pergola for your dream garden.
Villa and House Pergolas
Front-yard & Backyard Pergola
Pergola Consultation
Pergola Designing & Planning
Pergola Installations
Pergola Renovations
Pergola Maintenance
Pergola Design & Construction in UAE
+971505478110